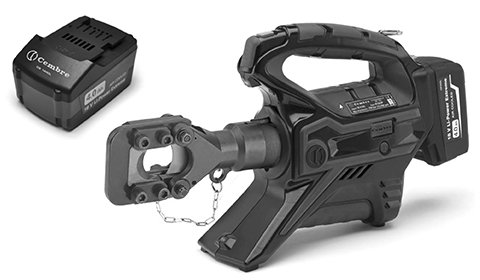 B-TC4500 is a cordless hydraulic cutting tool, lightweight and balance for single hand operation. Suitable for cutting Copper, Aluminium, Aldrey, Aluminium-Steel cables, Steel ropes, Aluminium and Steel rods having a max overall diameter of 45 mm.
New Li-Ion 18 V 4 Ah batteries offer a higher capacity than 14.4 V 3 Ah, while greater cutting speed and cutting force result from a revitalised hydraulic system with double speed action: a more rapid approach of the blade followed automatically by a slower speed for more powerful cutting.
The blades are manufactured from high strength Special Steel, heat treated to ensure a long service life while the head's ability to pivot up to 180 degrees makes for ease of use in confined spaces and it can easily be opened to allow cutting of running cables.
Flashing work lights and a continuous beep indicate to the operator that B-TC4500 has reached the number of working hours at which ordinary maintenance is recommended. It is also a feature that the operating data is stored on a memory card for transfer to PC by USB interface.
Three versions of B-TC450 are available, each with a different battery charger to meet national requirements